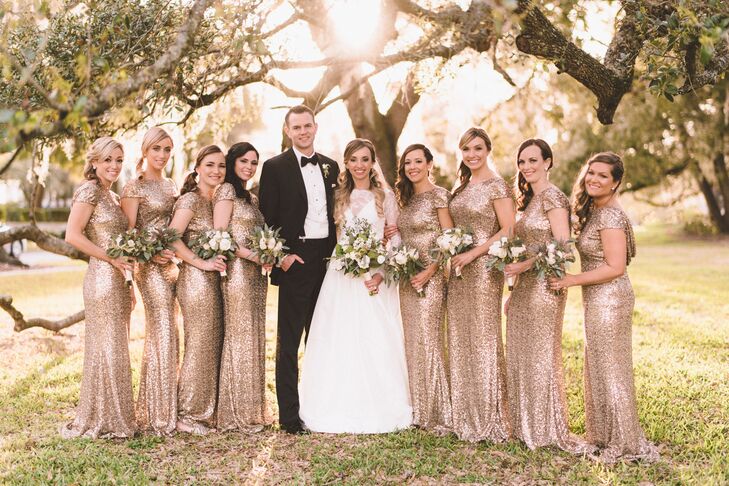 Are you tying the knot soon? Then, you must have started with the preparations already. There are so many things that one has to arrange for when it comes to a wedding, isn't it? So, it is crucial that you start a little early. Right from booking the perfect venue, preparing the guest list and sending out the invites, to deciding the caterer and the menu, and choosing your bridesmaids, it will be a busy time for you. But the real problem occurs when you have to decide what your bridesmaids will be wearing on the D-day. You must already be aware that they have different body types, varied taste in fashion, and various personalities they have. So, it is quite difficult to decide on one particular kind of dress for all of them. Nowadays, some people are breaking the tradition of making the bridesmaids wear the same dress and are opting for the mismatched bridesmaid dresses. So, there is a cohesive factor in the look of the bridesmaids but they are dressed according to their individual body frames, personalities, and sense of style.
Whether you opt for the traditional bridesmaid look or choose the mismatched style, there is one particular style of dress that will definitely look lovely on your girl gang. And that is the sequin bridesmaid dresses. Are you wondering why this is such a great choice? Here, we have put together a few reasons for you. Take a look.
1. The Perfect Sparkle & Shine of WeddingWeddings are synonymous with a lot of sparkle and shine. Right from the clothes, jewelry, to even the venue décor, there is almost a bling in everything. This mood can be rightly captured by the sequin dresses. So, if your bridesmaids put on gowns with a lot of sequin work on them, it resonates the wedding party like feels. That is why this is a great idea.
2. Stand Out from the Wedding Guests
Your crew of ladies are also esteemed guests attending your wedding but they are more than the wedding guests, isn't it? So, you have to make them feel like they are different and others should also be able to tell the difference between your other guests and the bridesmaids. If you opt for the sequin dresses or gowns for your girls' squad, it will set them apart from the rest. These dresses have an aura of their own and add the required sheen and luster to the look of the bridesmaids.
3. A Variety of Colors & Styles
Are you wondering how will you cater to everyone's taste with the sequined dresses? Well, you don't have to try the traditional bridesmaid dresses for your girl gang. You can also try the mismatched look on them with these sparkly and shiny gowns. These sequin dresses for the bridesmaids are available in a huge variety of colors and styles. If you don't want the regular gold or silver, you can choose from ivory, champagne, rose gold, burgundy, and even black. All these colors are available for the sequins. And for the style, you can pick anything starting with the off-shoulder, backless, long-sleeves, mermaid style, thigh-slit, v-neck, boat-neck, or even two-piece style dresses. Just know the fashion sense of your girlies and browse through the collection of a renowned store or online website to pick a gorgeous sequin dress for them.
These sequin dresses can also be the perfect contrast to your monochrome white bridal gown. There are several places where you can get chiffon or lace prom dresses and bridesmaid dresses with sequin work on them. So, start researching about a place which offers such beautiful sequin and sparkly bridesmaid dresses.
Author Bio: Sara Thompson, a regular blogger on chiffon and lace prom dresses and bridesmaid gowns, here writes on 3 perfect reasons why more and more people are in love with the sequin bridesmaid dresses.